Employment Law
Complying with employment law keeps employees happy and more productive and can save an employer the cost and stress of employment tribunal claims.
From bespoke employment contracts, to changing terms and conditions, to avoiding litigation; Mackenzie Jones will provide your business legal expert advice and ensure your practices stay within the law.
If, however, you're an employee and have a grievance against your employer, our dedicated employment law team can help you with issues such as raising concerns about work issues, recruitment and promotion, post-termination contractual restrictions, resisting allegations of poor performance or misconduct to fighting discrimination, bullying and harassment.
Mackenzie Jones has provided a dedicated and innovative service to an extensive list of clients across Chester, St Asaph, Prestatyn and North Wales. Whether you're an employee or an employer, let us help you fight for and protect your interests.
Download our brochure below...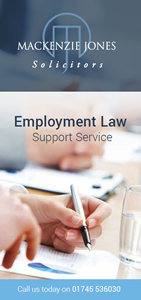 We understand your business objectives, solve problems and get results.

Contact us today for help and advice about Employment Law.

Call our expert Richard free on
0800 328 4466
Request a call back
Simply complete the form below and one of our experts will get back to you.
Find your employment law expert
Whether you're looking for a specific lawyer, or a specialist in a particular area of the law, you'll find expert lawyers who are approachable and offer clear, no-nonsense advice.
Find out more about our people